Gosau – Holiday region Dachstein-Salzkammergu
Home of the Dachsteinkönig
The village of Gosau winds its way through a 10km-long high valley surrounded by the magnificent mountains of the Inner Salzkammergut. The highlights of the valley are the picturesque Gosau lake as well as the Dachstein with the Dachstein glacier, which stand at the end of the valley as an imposing natureal spectacle. In summer as well as in winter you will find here an idyllic place for your family holidays in Austria.
Gosau is in Upper Austria, Gmunden im Traunviertel county, inner Salzkammergut, on the edge of the Hallstatt-Dachstein-Salzkammergut UNESCO World Heritage Site.
Facts & figures about Gosau
Population: almost 2,000
Area: 113 km²
Height above sea level: 767 m
Longitude: 13.534297943115
Latitude: 47.582373469091
Gosau follows the course of the Gosaubach stream, winding east and south-east through the Gosautal valley to the Gosau basin, the centre of Gosau, where our Dachsteinkönig Familux Resort is located. The Hintertal rises towards the Vordere Gosausee lake, a beautiful swimming lake overlooking the Dachstein. Directly opposite our hotel is the Hornspitz with the Hornspitzbahn cable car (in operation during the winter ski season).
The Gosaukamm in the west of Gosau, the Donnerkogel (2055 m) and the Grosswand (2415 m) provide a stunning backdrop, towering above the valley.
The southern section of the region is a designated nature conservation area and has been a European nature reserve since 2001.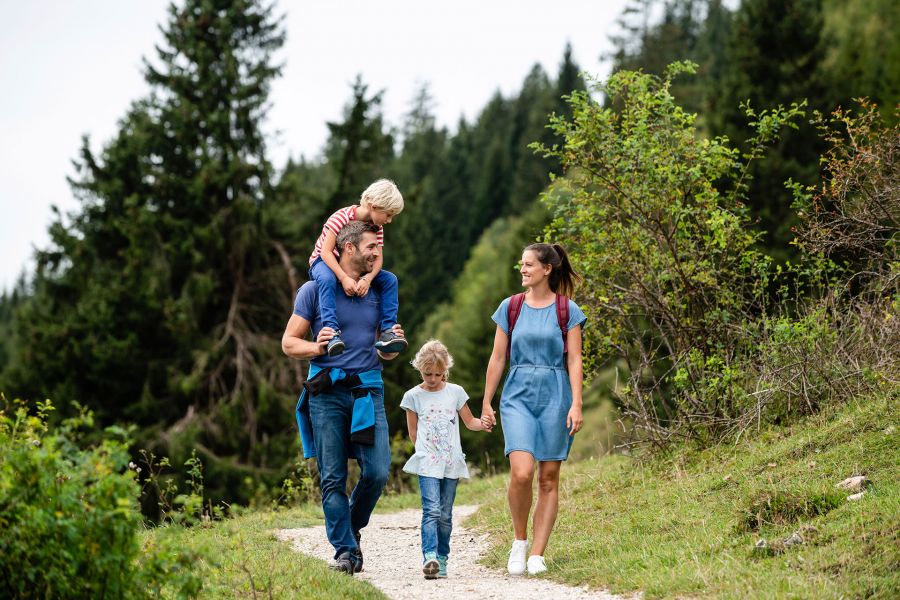 Summer in Gosau
Your summer family holiday: hiking, climbing and taking mountain bikes up the mountain, with a stop at a quaint, alpine pasture – these are some intense nature experiences. Alternatively, take the Gosaukamm cable car from Hintertal up to the top of the Zwieselalm to find a wide variety of walking, climbing and bike routes.
The excursion train takes you to the Löckermoos natural wonder near the grindstone quarry. Löckermoos is well-known for its many fossil and mineral findings, which have revealed a huge amount of information about the history and formation of the Dachstein mountains.
Children will love the Urzeitwald (prehistoric park) with it activity stations, and the Schmiedbauern museum gives visitors an insight into how local people lived.
Kinderhotel, Austria, Summer – a perfect combination!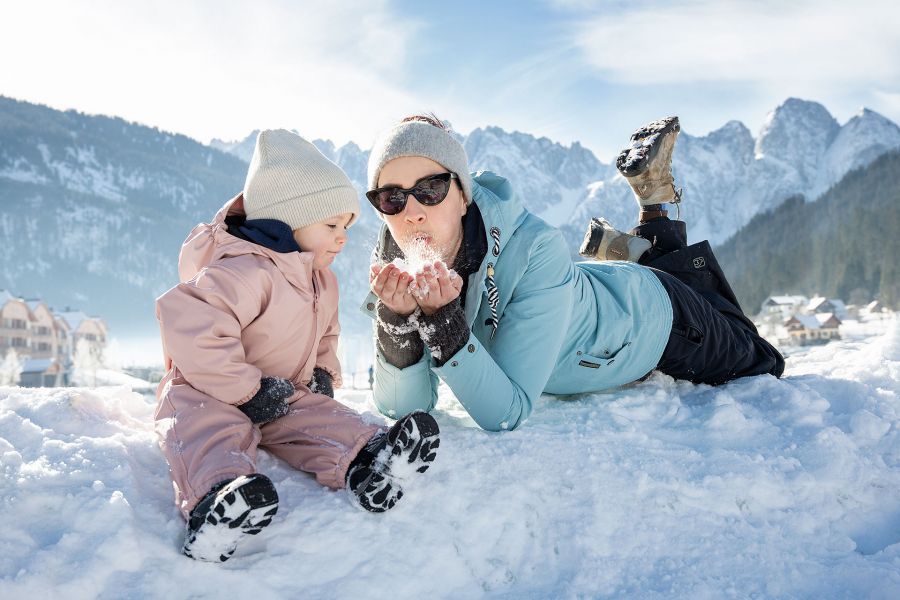 Winter in Gosau
A fairy tale winter landscape is all part of the experience for a family holiday in the Alps. The majestic Dachstein mountains in Gosau will certainly exceed all expectations.
140 kilometres of ski slopes (the nearest ski lift is located directly opposite the hotel) and 50 kilometres of well-maintained cross-country ski trails (entrance behind the hotel) will appeal to the hearts of any winter sport enthusiast.
Skiing, snowboarding, cross-country skiing, snow-shoe hiking or just enjoying the alpine huts – anything is possible. The horse-drawn sleighs are a fantastic idea for an outing with the whole family.
Guided hiking tours can be arranged with our partner Checkpoint Sport, who is located directly in the hotel lobby.