We are happy to organize group and private ski lessons for children and adults with the Ski School Gosau.
Registrations for ski lessons in advance are very welcome by e-mail to our reception (rezeption@dachsteinkoenig.at).
A booking in advance for your desired course is recommended, because your desired course model may only be available for alternative course times within a booking during your stay.
Our toddler ski course takes place from Sunday to Friday from 10 am to 12 pm in the hotel garden (if snow conditions are suitable), for children aged 2.5 to 3 years old. You have direct access the toddler slope through the exit by the fitness studio. Beginners are welcome to join the toddler ski course at any time. In the event of insufficient snow in the valley, the toddler course will take place in the ski resort, on the other side of the road, to the left of the Moosalm. The Godei Express will take the children safely to the ski area. Please ensure that your children come to the ski course with all their equipment. No ski pass is required for this course. Participation in this course is only possible with prior registration.
In the Brumsi-Bambini club, your mini-skiers aged 3 to approx. 5, can discover the enjoyable world of skiing in a playful and child-friendly environment, Sunday to Friday from 10 am to 12 pm. The ski instructors at the Gosau Ski School will guide your children through their first turns in small groups. Supported by modern learning aids in the colourful and diverse children's area, your children will learn how to ski with our motto: "learning by playing". Courses start on Sunday or Monday.
Group ski courses for teenagers & children, from the age of 5
These 3-hour ski courses take place in the ski resort from Sunday to Friday, 9.30 am to 12.30 pm. The Godei Express will take your children safely to Gosau Ski School's meeting point at 9.15 am. Please indicate your children's ability level when booking this ski course. Beginners can start the group course on Sundays or Mondays, while intermediate and advanced students can join the course at any time. Please ensure that your children come to the ski course with all their equipment. Children (except beginners) need a ski pass for this course. For children under the age of 6, a free mini ski pass (valid for 2 days or more) is available on request from our reception desk. A photo of your child is required for the ski pass. We will be happy to take care of this for you at reception.
Please note that the alternative full day course (4 hours per day) cannot take place in the winter season 2020/21.
Group ski course for adults
The group ski course for adults takes place from Monday to Wednesday, 10 am to 12.30 pm. Participants meet at 9.45 am at the meeting point of the Gosau Ski School, on the opposite side of the street. Beginners can start the adult course on Mondays, while advanced skiers can join at any time. You need a ski pass for this ski course. If at least 3 participants continue the course after Wednesday, the course can be continued on Thursday and Friday. Please note that the Godei Express is primarily for children. However, if there is any space left on the Godei Express you are, of course, welcome to join.
Gosau Ski School offers special teaching programmes that will help not only children and teenagers, but adults too, learn unique moves on the board. Snowboard courses taken place from 10 am to 12.30 pm. During the Christmas holidays, beginners can also start the course on 23 Dec, 25 Dec, 27 Dec, 28 Dec, 31 Dec, 2 Jan and 3 Jan!
Private ski courses for children, teenagers and adults
Alone, with friends or family – adults, teenagers or children – whether on skis, snowboard or cross-country skis, our private courses cover all your wishes for personal, professional teaching. As a beginner, you will learn faster and immediately start to enjoy winter sports, and as an advanced leaner or professional, you can improve your technique quickly and purposefully. On the first day of the course the ski instructor will pick you up right from the hotel, if you wish.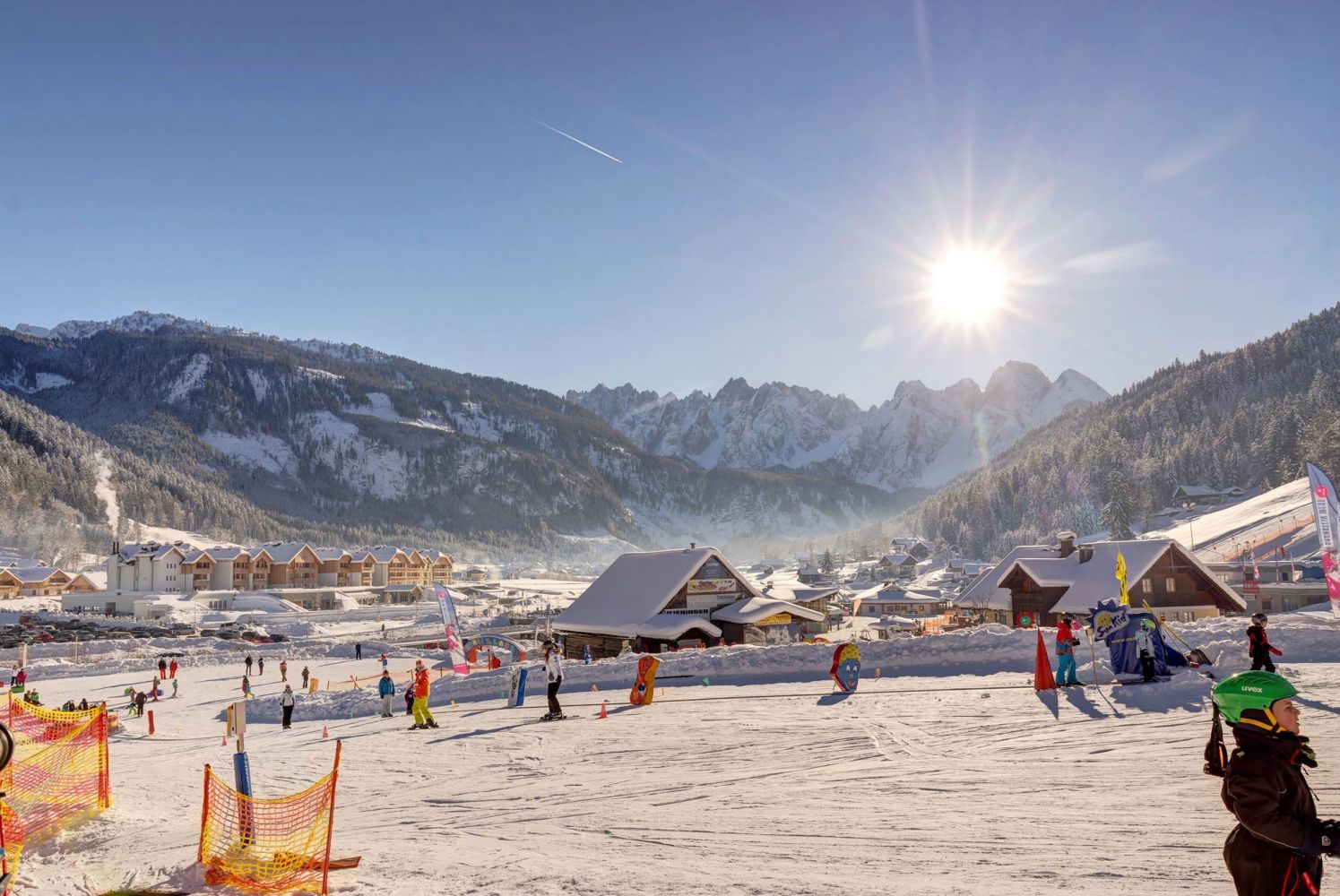 The Godei Express takes our ski school children from the hotel to the Gosau Ski School meeting point every day, at the following times:
9.15 am and 9.45 am
12 pm and 12.30 pm
3 pm and 3.15 pm