Culinary luxury for young and old
unique. different. fabulous.
Sustainable regionality – not just a phrase but our philosophy in the Dachsteinkönig Hotel!
Executive Chef Roland Rangger and his team of 30 people are working in two shifts, 16 hours a day, for the well-being of both young and old guests in the Dachsteinkönig Hotel. The requirements, for our experienced and international kitchen team are high. There can only be creativity, variety, and above all freshness if the suppliers provide high quality products and the delivery pathways are kept as short as possible.
To name just a few of our valued suppliers: every two weeks a whole calf is delivered from the Gosauer Genusskorb, the fresh bread in the breakfast basket comes from the Meislinger Bakery and the Salzkammergut Bakery, both in Bad Goisern. The sweet honey for "spreading" comes from the Eberharter migratory apiary and the 120,000 eggs that we use every year come from happy, free-living chickens from Pölzleitner farmers in the Salzburg region.
No, we do not economise here at all, as our Roland spends approximately 2.5 million euros each year on high-quality food.
In 2018 we were awarded for the second time with the AMA Gastrosiegel, which checks the origin of the food we buy.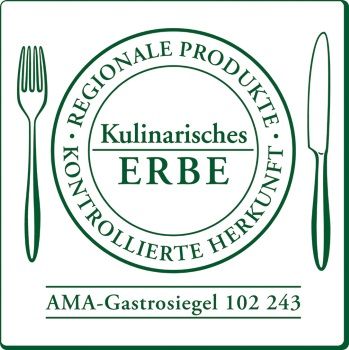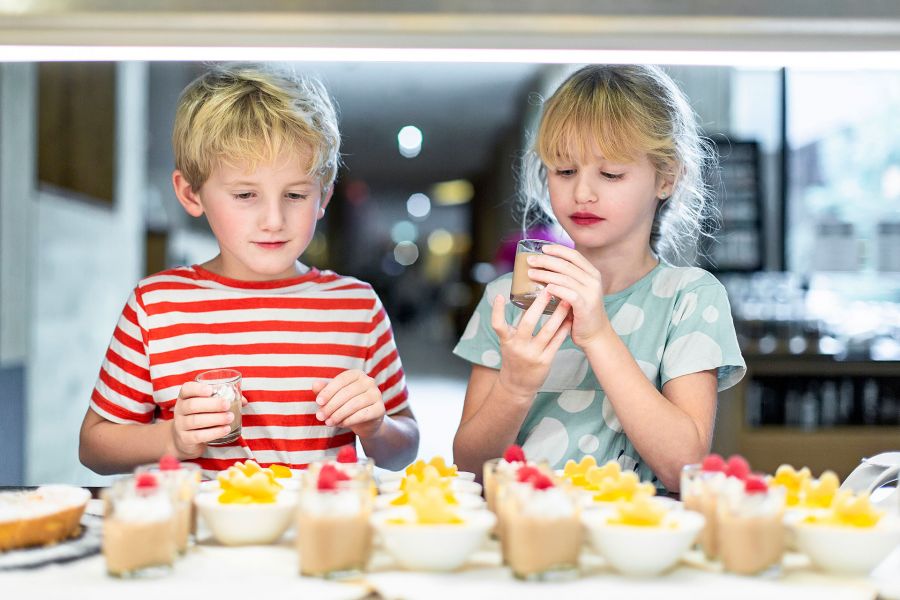 Our "Greißlerei"
This is the name of our buffet area, which is modelled on a grocery store. For English speaking guests better known as grocery or tuck shop. You will find not only traditional Austrian specialities but also pasta and pizza here – a must for our young guests on holiday.
Our Greißlerei also has an international facet. In addition to the wok station, there are specialities from all over the world. At our live cooking stations, you can watch the meat, fish, and even sushi being prepared.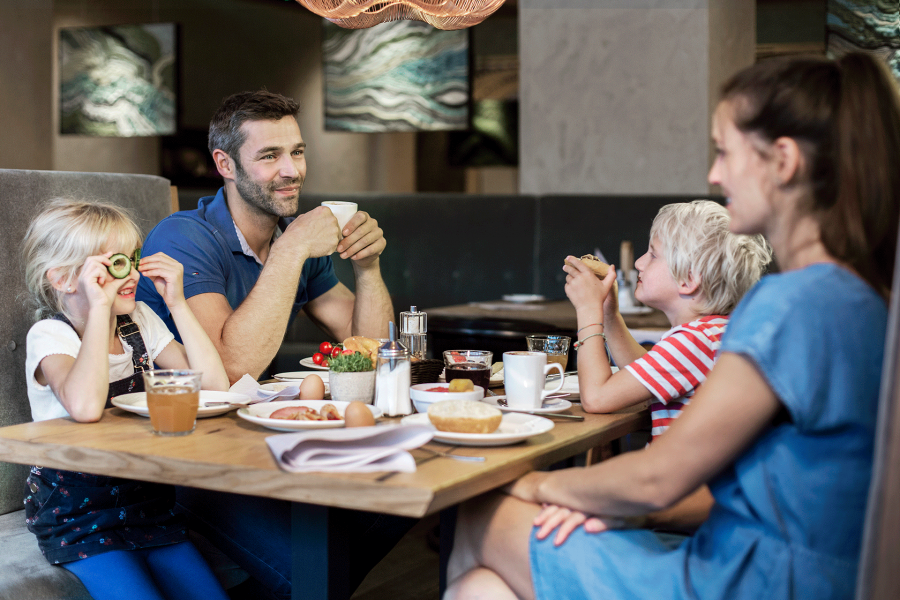 Eat a royal breakfast - because it is the most important meal of the day
A rich breakfast buffet is an absolute must and when on holiday. Here, too, the highest quality and careful preparation are of course very important to us. In addition to regional organic specialities, you will find fresh ginger tea and clear vegetable stock every day. Our daily changing breakfast special offers variety. From the caviar bar to hearty tortillas and chili con carne to the egg dish with freshly grated truffles, we make every food connoisseur's heart beat faster. A highlight for our little queens and kinds is the waffle making station.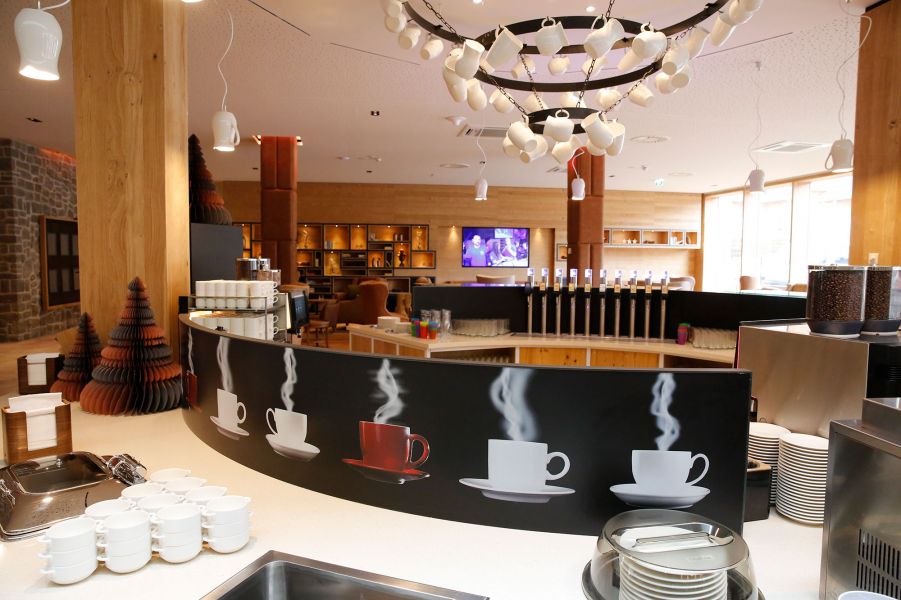 Our Milk Bar
After being active in the Kids Club or on a hike with the family, you can enjoy fresh strudel here every day. Sometimes savoury, sometimes sweet, as well as fresh pastries from our own patisserie. With a cappuccino, a strong espresso, or one of our 24 exquisite teas to go with them. The coffee machine and the beverage fountain are at your disposal around the clock. On Sundays, it is then time for a barbecue, almost like at home! Except that Mom and Dad can sit back and relax with us, as our kitchen team stands behind the OFYR grill on our Milk Bar terrace.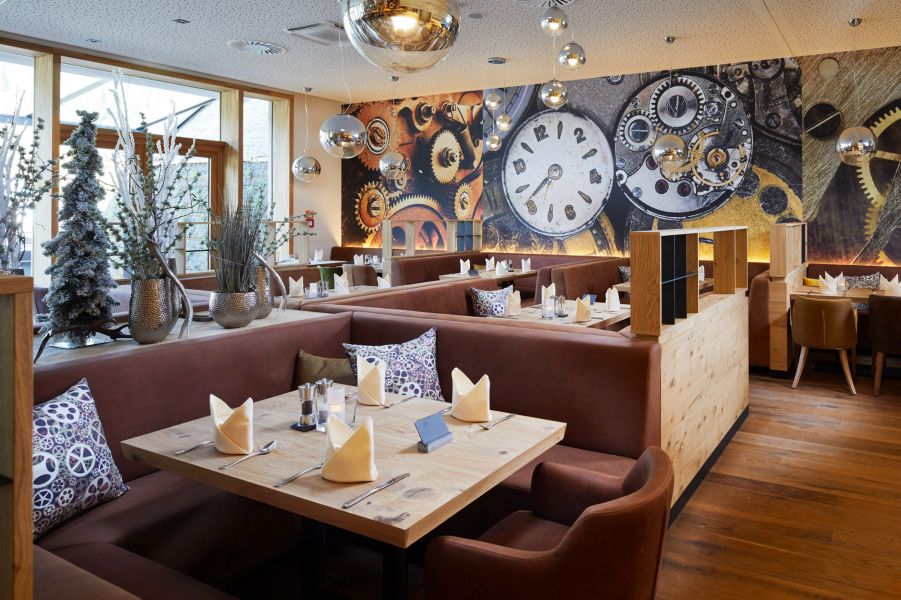 Have a feast in our lovingly designed restaurant
In order to create a pleasant and relaxed atmosphere and a certain private space even at full capacity, we have designed our restaurant in co-operation with local handicraft businesses and divided it into different areas. So enjoy our delicacies in the tannery between original deerskin trousers from Bad Aussee, in the bootmakers shop equipped with Goiserer footwear, in the tailors area in the company of smart "dirndl dresses", in the juggler's & circus with funny dolls or in the watchmaker amidst cogs and clockworks.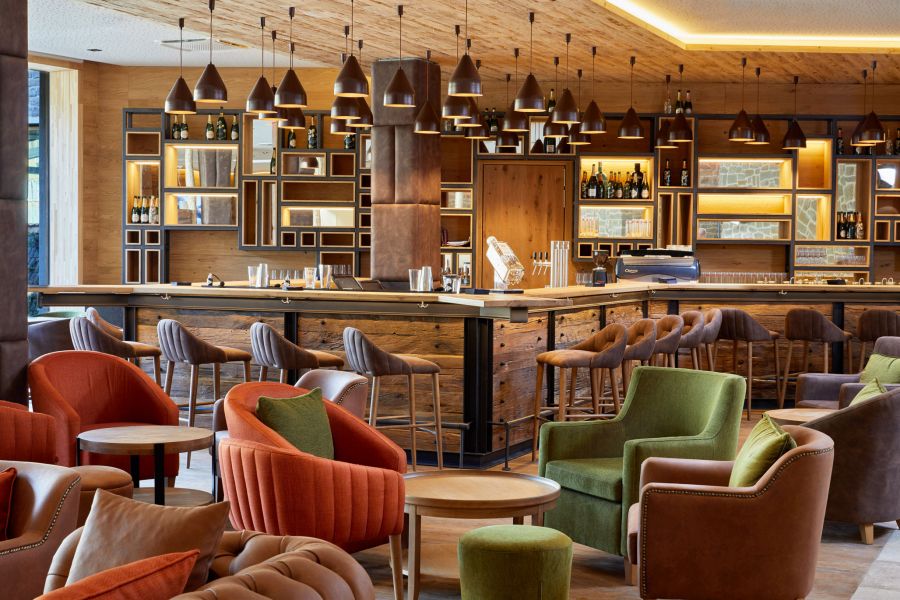 The Bar - dedicated to philosophy
Enjoy a classic bitter-sweet Negroni or our fruity DACHSTEINKÖNIG signature drink in a dignified ambience, sinking into comfortable leather sofas. Head barkeeper Michael Ragoß and his team are the perfect conversational partners to philosophise about the "gin of life" and are available to help you choose from over 20 different exotic gin drinks, around 15 international rums or over 30 smoky whiskeys.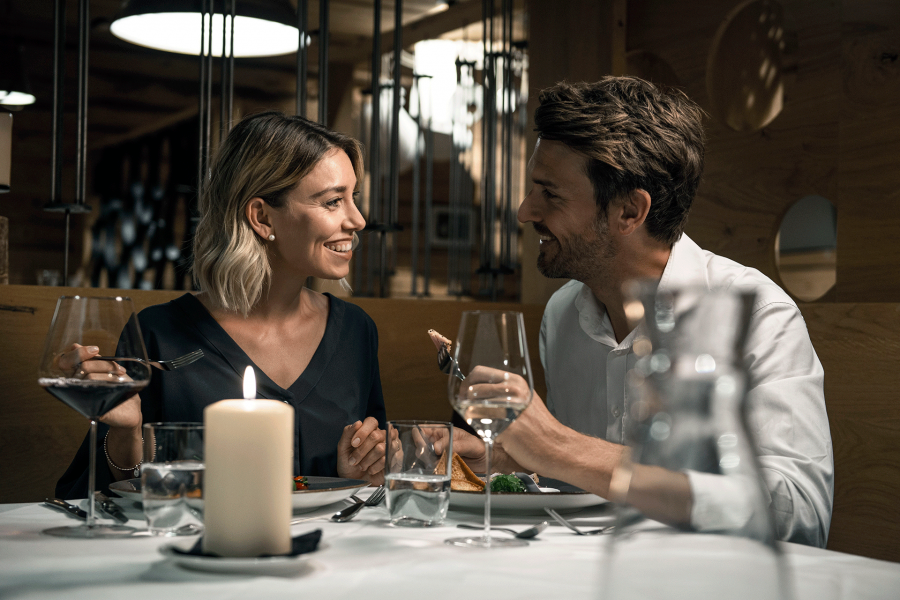 The Vinothek - about 600 stock items of Austrian and international wines
Certified sake sommelier and champagne ambassador Benjamin Zimmerling, together with wine sommeliers Lukas and Commis de vin Lukas, ensure a culinary experience of a very special kind.
In Signo Regis – "Under the Sign of the King". This promise is based on the many years of experience from the Burgenland winemaker Heribert Bayer in co-operation with our trained sommeliers. We worked together with the winemakers to assure the highest Cuvée quality for this exclusive, limited sommelier selection in conformity with the high demands of our guests.
Whether a Tement Zieregg Steinbruch kept at perfect temperature or our Premium Cuvée, "In Signo Regis", enjoy cosy hours in our Vinothek and be entertained by our Tyrolean sommelier Benjamin. Every Tuesday and Saturday, there is also a guided wine tasting in our vinothek and daily from 5.30 pm to 6 pm the recommended wines for the day are tasted at our Tasting Bar.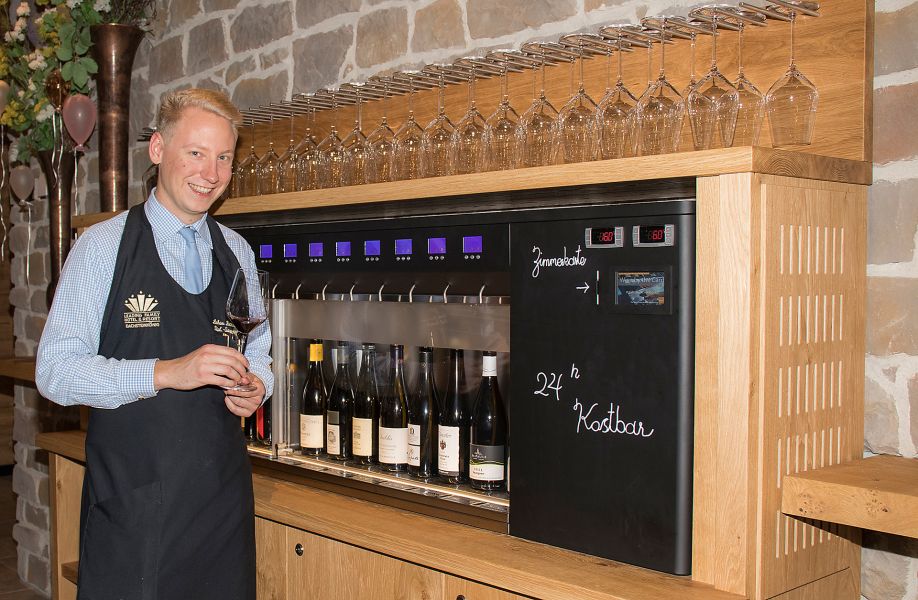 The 24 h Kostbar – top wines from the vending machine
A new highlight for the wine lovers among our guests. At our Kostbar, you can enjoy 16 different wines 24 hours a day. "Wines from Austria, Italy, France, and Germany as well as exotic wines – for example from Lebanon – can be directly tapped into the glass at 6°C or 16°C by our guests using the room card", says sommelier Benjamin about the latest acquisition for adults in our innovative children's hotel. How it works: insert your room card, select the wine and quantity (a sample, a sixteenth, or an eighth depending on your taste) hold the glass under it, and press the button. Mum and Dad will also soon have the opportunity to taste real rarities and vintage depths, which are mostly only offered in bottles, at the 24 hour wine bar in Dachsteinkönig. "Of course, this does not replace the classic service and advice that we offer our guests with great pleasure. It is simply another way to make our guests even happier – 24 hours a day", says Sommelier Lukas about the wine from the vending machine. The machine is highly popular with our discerning guests.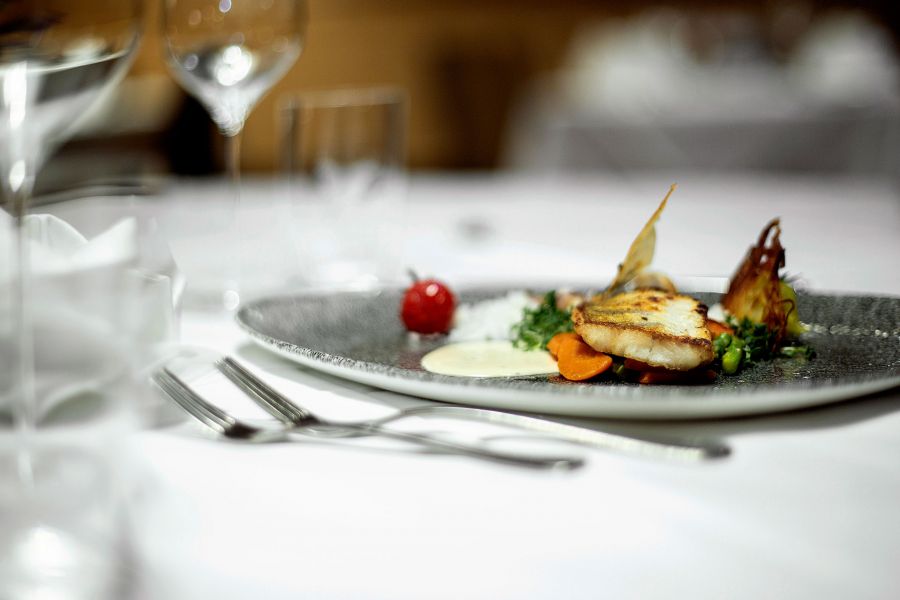 The "Sennerei" - our à la carte restaurant
If Mom and Dad would like to take the time to have a special night with a cosy dinner for two, then we would be happy to reserve a table for you in our Sennerei from Monday to Friday. A selection of different fondues, delicious steak specialities from local beef or Japanese wagyu to Australian corn beef or lobsters as well as local desserts, such as Salzburg dumplings, can also be enjoyed with the whole family.
Restaurant manager Evelyn Olak, a diploma-qualified beer sommelier and her team of around 30 staff take care of your wishes at the table. She also and her extensive knowledge of beer and brews with you every Monday during a guided tasting session.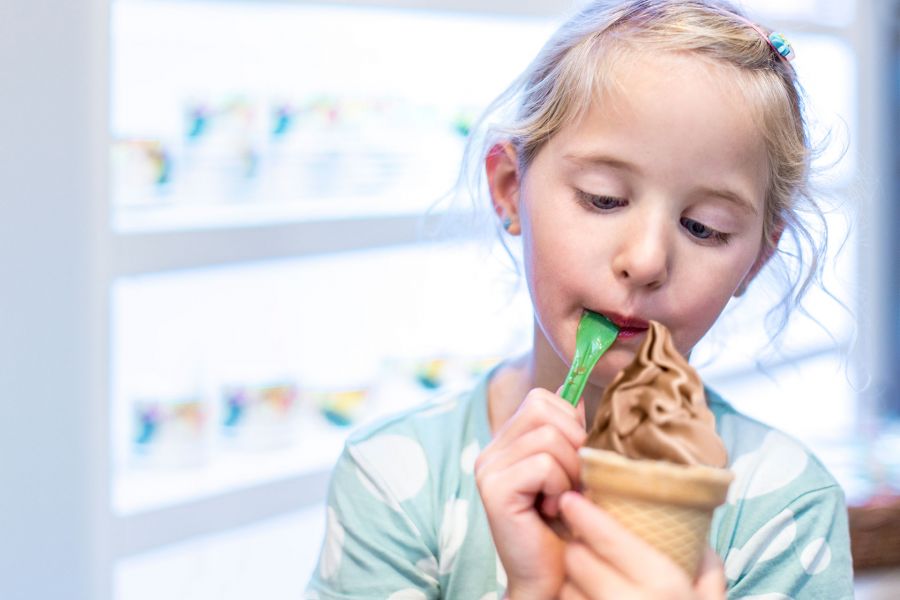 Special dietary needs
People who follow a gluten-free or lactose-free diet will be spoiled with a large selection of delicacies that meet their needs. From pasta to crispbreads, from marble cake to muffins, from pizza bases to fun snacks and all kinds of milks and cheeses, we cook, fry and bake in line with your requirements so you can have a carefree holiday. If you have other nutritional needs, please let us know this before you arrive. The kitchen team will compile a holiday meal plan tailored to the intolerances and allergies in question.