Culinary delights for young and old
unique. special. legendary.
Sustainable regionality – not just a phrase here at the Dachsteinkönig, but a philosophy we truly live by!
Executive Chef Roland Rangger and his team of 30 work in two shifts, 16 hours a day, to ensure the culinary well-being of guests, both young and old, at the Dachsteinkönig. The standards of our internationally experienced kitchen brigade are high. Creativity and variety, but above all; freshness and quality. Something that can only be achieved when suppliers produce to the highest level and the delivery routes are kept as short as possible.
To name just a few of our valued suppliers: Every fortnight a whole veal is delivered by the local shop Gosauer Genusskorb, the tasty bread in your breakfast basket comes from the Andexlinger Bakery and the Salzkammergut Bakery. The sweet honey to perfect to slather on top comes from the migratory honey farm Eberharter, the fine jams come from Bad Ischl and the 120,000 or so eggs that comes through our kitchen every year are from happy, free-range chickens from the organic farmer Putzgrub and the meadow-fields of Abtenau from Salzburger Land. The White Panther prawns are sourced from Rottenmann in Styria, beef and pork from the Ablinger butchery in Salzburger Land and our Wagyu beef comes from the Wagyu farm in Mostviertel.
No, we definitely don't save here, because our Roland spends around 2.5 million euros a year on high-quality ingredients.
Since 2017, we have carried the AMA Gastrosiegel, which confirms the origin of the food we source from the region annually by an inspector.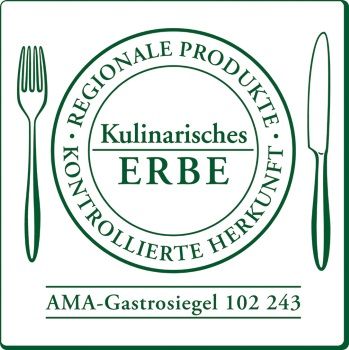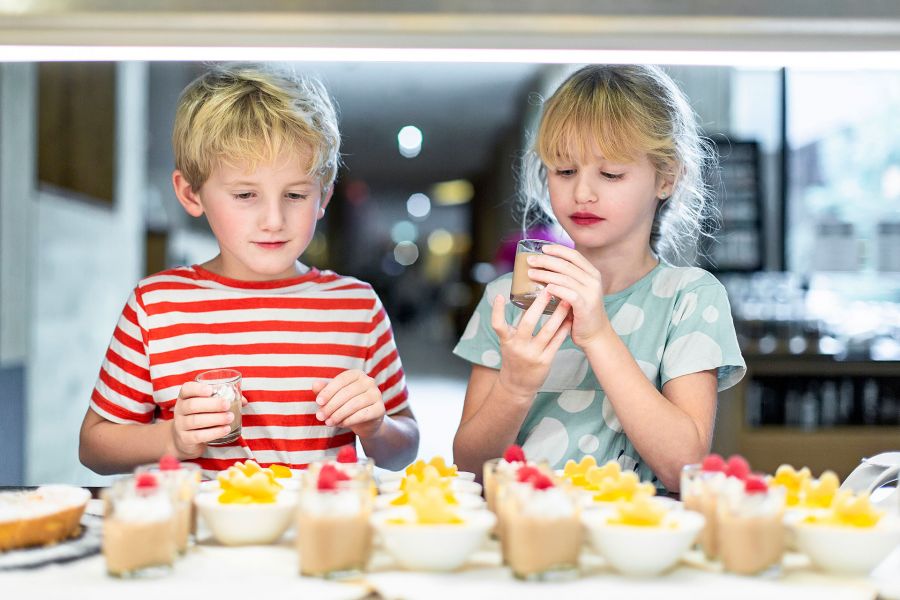 Our "Greißlerei"
This is the name of our buffet area, which is an old Austrian word for grocery store, which is suitably also modelled thereafter. Here you will find traditional Austrian specialities, but also pasta and pizza – for some of our younger guests, the hallmarks of being on holiday.
Our Greißlerei is also internationally stocked. In addition to the fixed Wok-station, you will find specialities from all over the world. At our live cooking stations, you are easily tempted by the fresh in-person preparation of meat, fish and even sushi.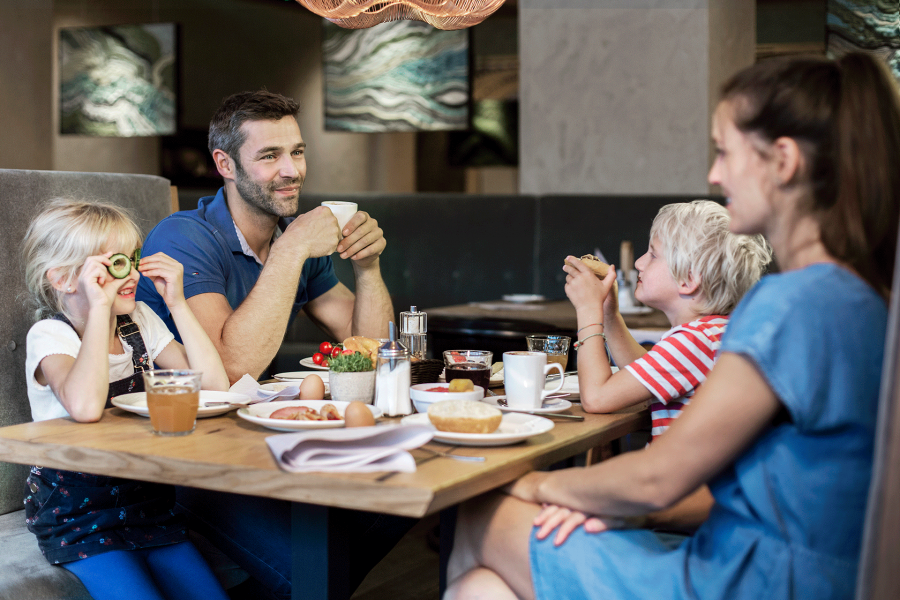 Have a royal breakfast – after all it's said to be the most important meal of the day
A sumptuous breakfast buffet is an absolute must and a pure pleasure, especially on holiday. Here, too, we attach great importance to the highest quality and careful preparation. In addition to regional organic specialities, you will find fresh ginger tea and clear vegetable broth every day. Our daily changing breakfast specials offers variety for your stay. From the caviar bar to hearty tortillas and chilli con carne, or egg dishes with freshly grated truffles, we make every food enthusiast's heart beat a little faster. Especially popular with our little queens and kings is the make-your-own-waffle-station.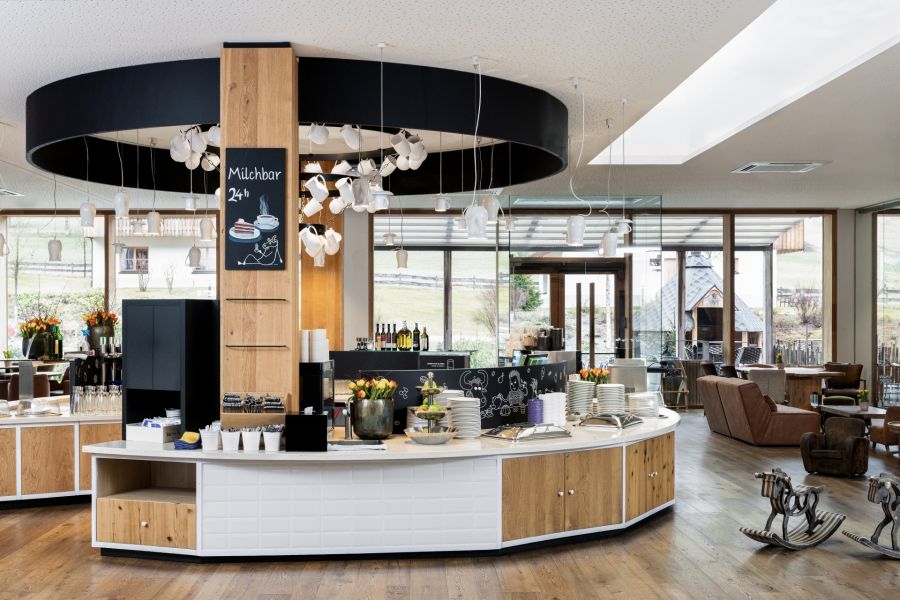 The afternoon at our Milk Bar
After the action in the Kids' Club or a hike with the family, you can enjoy fresh strudel here every day. Sometimes savoury, sometimes sweet, as well as fresh pastries from our in-house patisserie. Accompanied by a cup of cappuccino, a strong espresso or one of our 24 exquisite teas. The coffee machine and beverage fountain are available around the clock. On Tuesdays, Thursdays, and Saturdays we have a barbecue, so it's almost like being at home! Except that mum and dad can sit back and relax with us, because our kitchen team is behind the impressive OFYR grill on our Milk Bar terrace.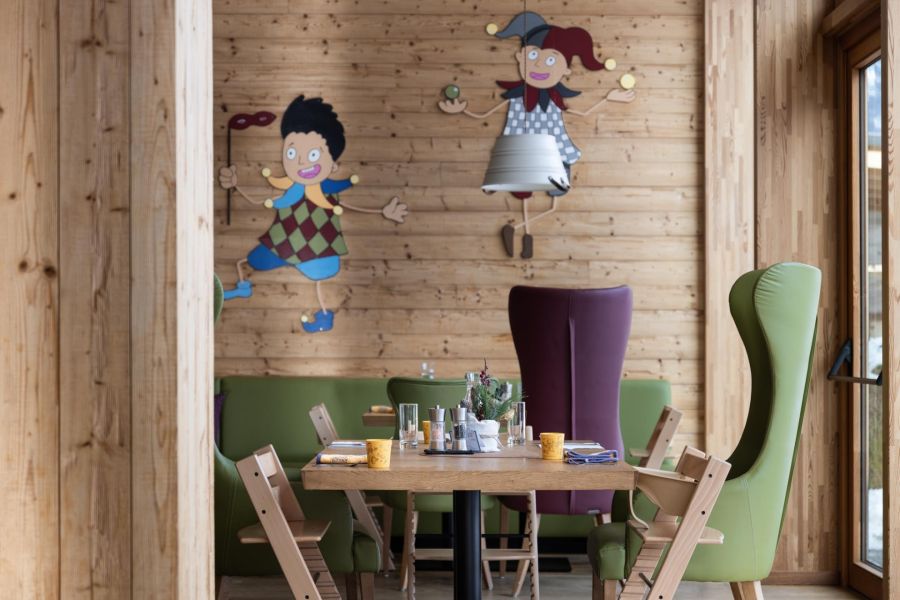 Feast in our uniquely designed restaurant
In order to create a pleasant and relaxed atmosphere and to ensure a comfortable level of privacy even when the restaurant is at full capacity, we have designed our restaurant in the style of the various craft workshops located in the Salzkammergut region and divided it into distinct areas. So, you can enjoy our delicacies in the "Gerberei" (tannery) between original deerskin trousers from Bad Aussee, in the "Schuhmacherei" (shoemaker's shop) equipped with typical Goiser footwear, in the "Schneiderei" (tailor's shop) accompanied by snazzy "Dirndls", in the "Gauklerei" (juggler's shop) with funny dolls or in the "Uhrmacherei" (watchmaker's shop) surrounded by cogwheels and clockworks.
For little queens and kings who would rather dine with their new-found friends or one of our friendly child minders, there is a separate area right next to the children's buffet in the Greißlerei. Because sometimes a dinner like this is much more exciting without mum and dad.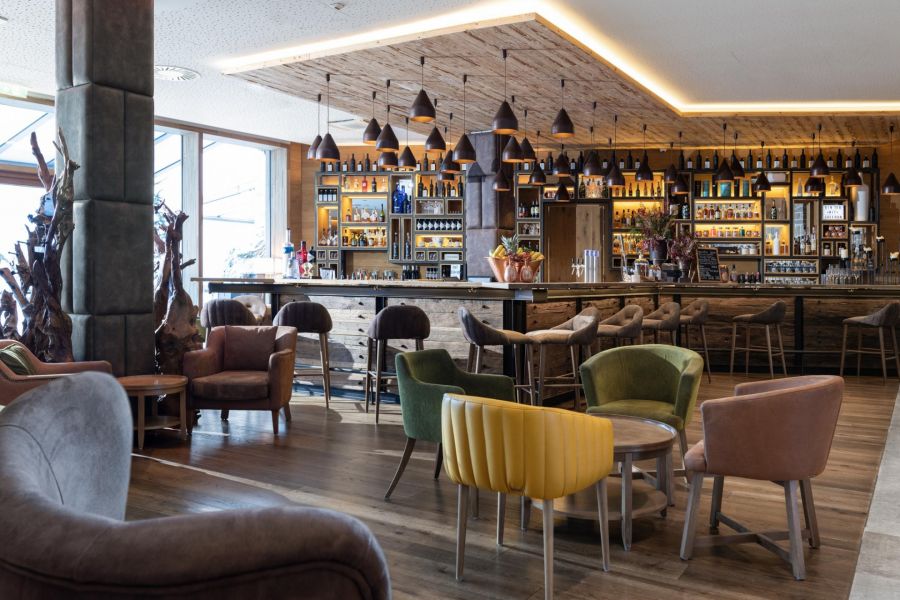 The bar – a space for philosophising
In a dignified ambience, sinking into comfortable leather sofas, you can enjoy a classic bitter-sweet Negroni or our fruity signature drink DACHSTEINKÖNIG. Our bar manager and his team are the perfect conversation partners to philosophise about the "gin of life" and are at your service to help you choose from over 20 different gins (including our in-house IUNI gin), around 15 international rums or over 30 whiskeys.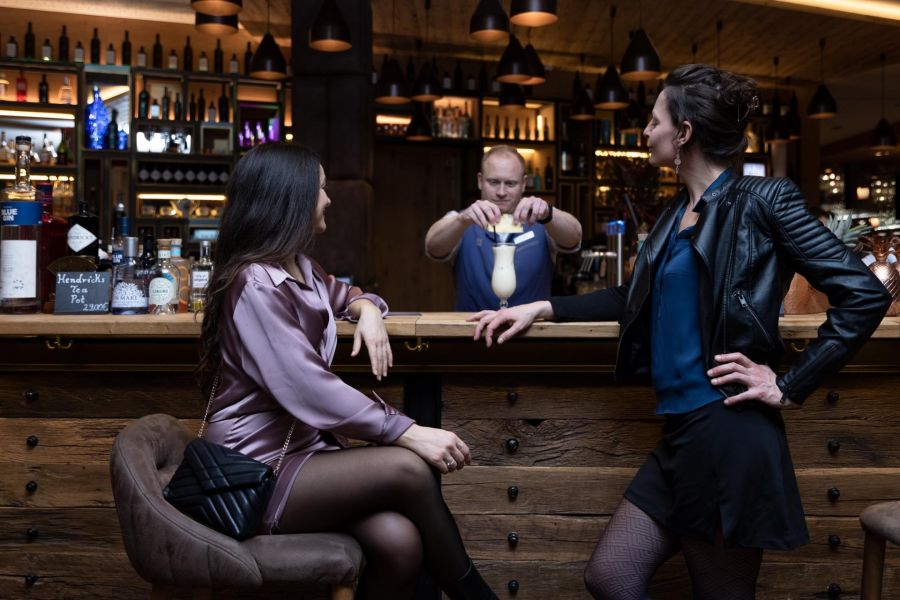 The Vinothek – around 600 Austrian and international wines
Our sommeliers provide a special kind of culinary delight. In Signo Regis – "Under the Sign of the King". Behind this promise lies the years of experience of the Burgenland winemaker Heribert Bayer in collaboration with our trained sommeliers. We met in Neckenmarkt in Burgenland to "re-cuvet" this exclusive, limited sommelier selection that accommodates the high standards of our guests.
Enjoy cosy hours in our Vinothek, whether it is with a perfectly tempered Tement Zieregg Steinbruch or our premium Cuvee "In Signo Regis". Every Tuesday and Saturday there is also a guided wine tasting in our Vinothek, and every day from 17:30 to 18:30 you can taste the recommended wines of the day at our tasting bar.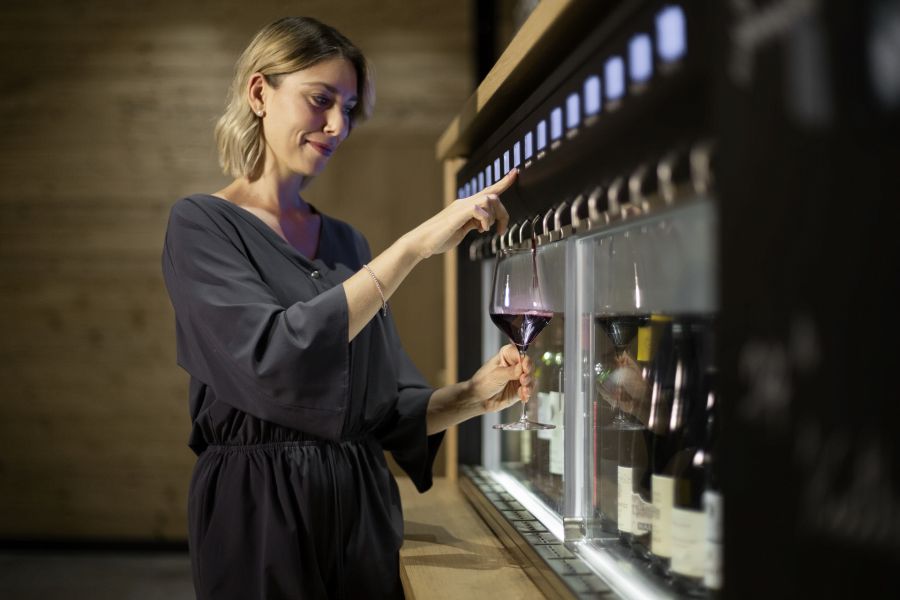 The 24h Kostbar – top wines, automatically dispensed
A highlight for our wine loving guests. At our Kostbar you can enjoy 16 different wines 24 hours a day. Wines from Austria, Italy, France and Germany, as well as more exotic wines from wine regions such as Lebanon, can be tapped by our guests directly into their glass at the perfect temperature of 6° C or 16°C using only their room card. It is as simple as this: insert the room card, select the wine and quantity, depending on what you fancy; a sample sip, a sixteenth or an eighth, hold the glass underneath and press the button. This is a great way to try exciting and exclusive wines offered by the glass.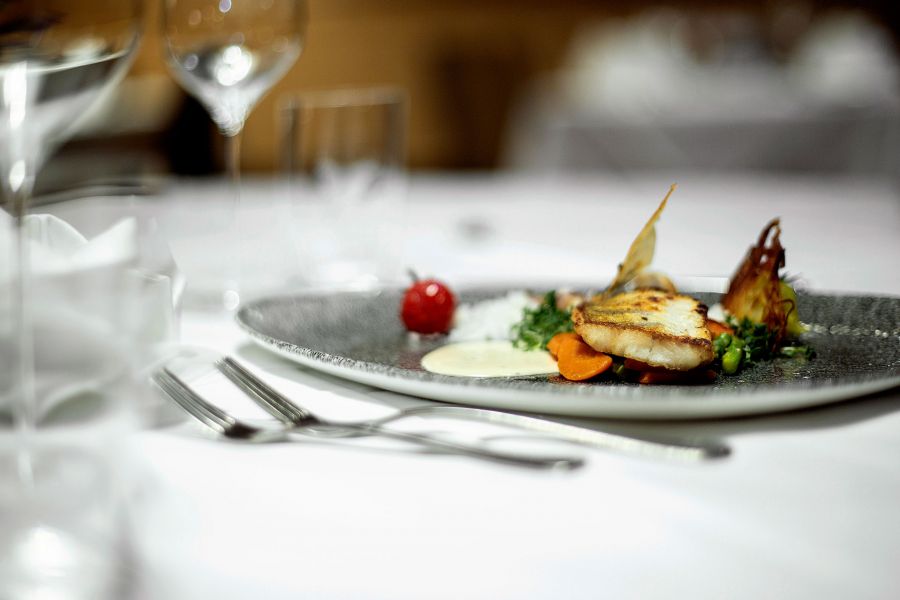 The Sennerei – our à la carte restaurant
When mum and dad want to celebrate dinner for two in a special way, we are happy to reserve a table for you in our Sennerei, available from Monday to Friday. A selection of different fondues, delicious steak specialities from local beef or Japanese Wagyu to Australian corn beef or langoustines and tempting desserts, such as Salzburger Nockerl, can of course also be enjoyed with the whole family.
Our service team of around 30 staff will take care of your wishes at the table.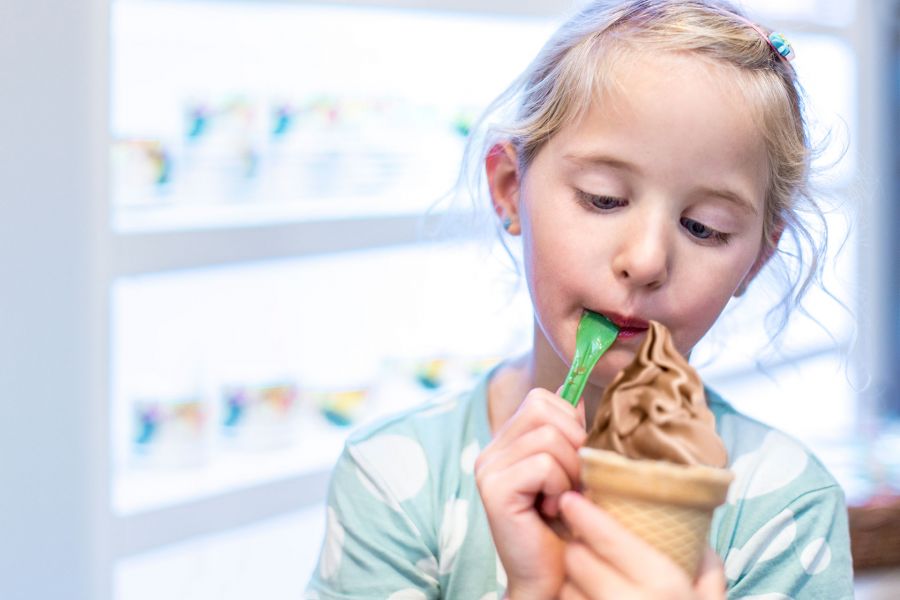 Special dietary considerations
Those with gluten- and lactose-free requirements will be spoilt with a large selection of delicacies. From pasta to crisp bread, from marble cakes to muffins, from pizza bases to snacks, to all kinds of milk and cheese. We cook, fry and bake accordingly to make sure your holiday is both fulfilling and carefree. If you have any other dietary requirements, please let us know before you arrive. The kitchen team will put together a holiday menu tailored to your intolerances and allergies.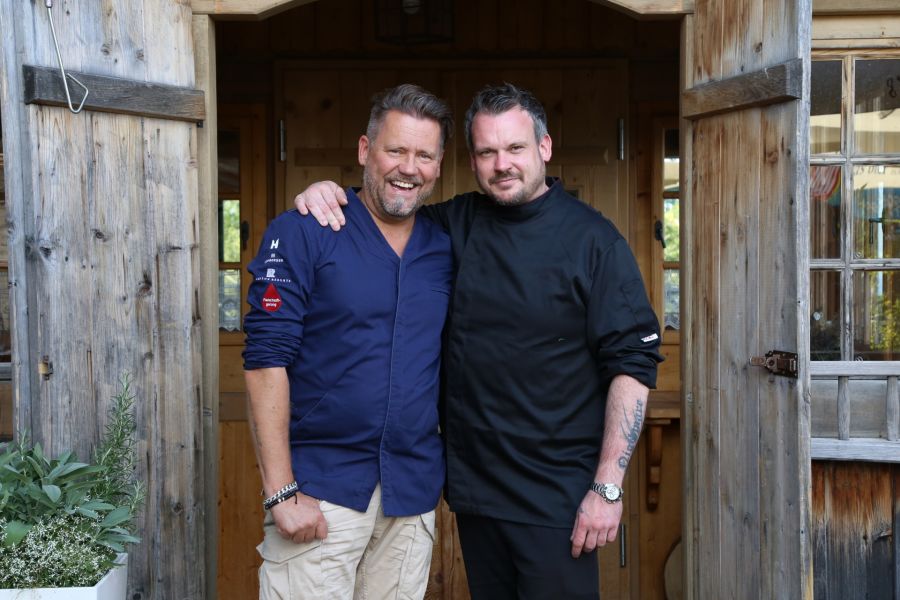 Collaboration with Mike Süsser
Discover our exclusive collaboration with Mike Süsser, the renowned television chef, host and culinary expert!
Mike Süsser keeps his eyes open for the Familux Resorts all the time and everywhere and ensures networking with international experts. With the help of joint food trend tours with our chefs in trendy gourmet metropolises and at trade fairs, we can identify culinary trends, plan new things and set further strong accents in the family hotel industry. Once a year there is a meet & greet for our guests at every Familux resort!